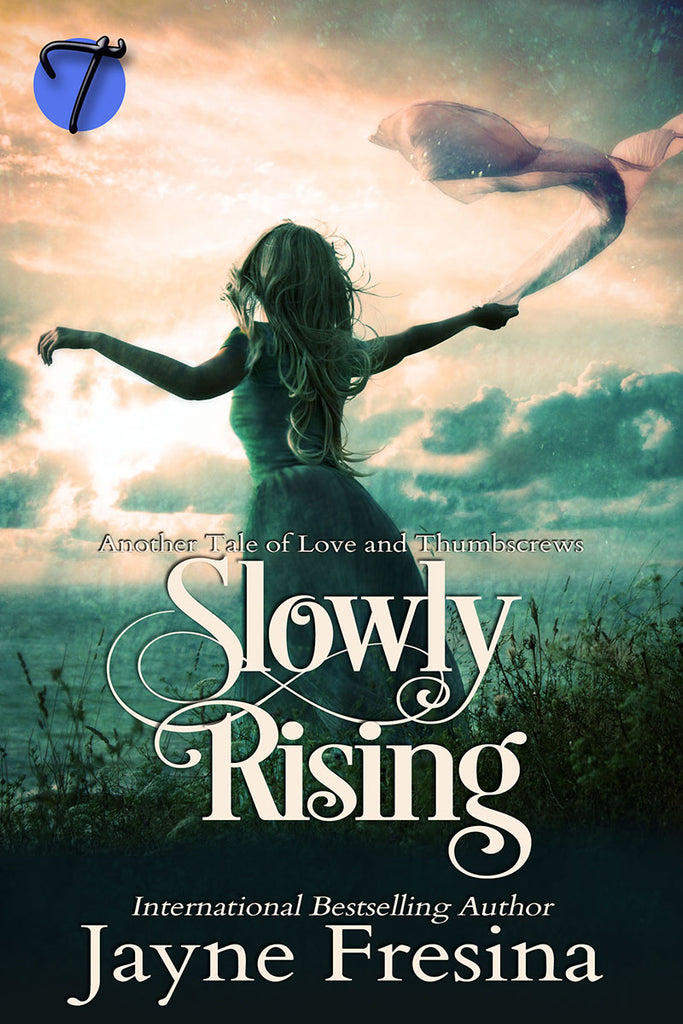 Slowly Rising by Jayne Fresina
English Edition
Slowly Rising is a house that slumbers with one eye open—a lantern that flickers with watchful amber flame in a second floor window. But like a cat hunched before a mouse hole, it is never fully and deeply asleep. Just pretending.
Once in a while it stretches; its tail languidly unfurls to give a single, sultry sweep from side to side before it lies still again. With an ear to the wall you can hear the wattle and daub vibrating with a low, throbbing purr. 
The woman who sings in the walls of the house is waiting.
* * * *
Amalie McKenna, the new lady's maid at Slowly Rising, is ambitious, hard-working and devoted to her job. Nothing can distract her and she has no time for mischief. This house might have a macabre history and more than a few wayward spirits, but Amalie is unimpressed. The supernatural has been a part of her world since before she was born and there's not much left that can surprise her, or make her heart beat faster.
Gideon Jones has also come to Slowly Rising with a job to do. Unlike anything she's ever encountered before, he's a straightforward, plain-speaking, fearless cockney with rough edges and an irrepressible smile. He claims to be an ordinary valet, but Amalie doesn't believe that for a minute. Because nothing that lives within the walls of Slowly Rising is quite what it seems. 
* * * *
Despite their differences, there is one thing the house's residents have in common: they're brave souls who came on a long journey, ready for adventure. And if they are bold enough to ignore the warning scratched into the doorframe, the menacing sentry of crows, and rumors of a man once scared to death within, then they're welcome to stay a while. At their own risk.
Now the woman who sings in the walls of the house waits for you. Are you ready to step inside?
---
---
More from this collection