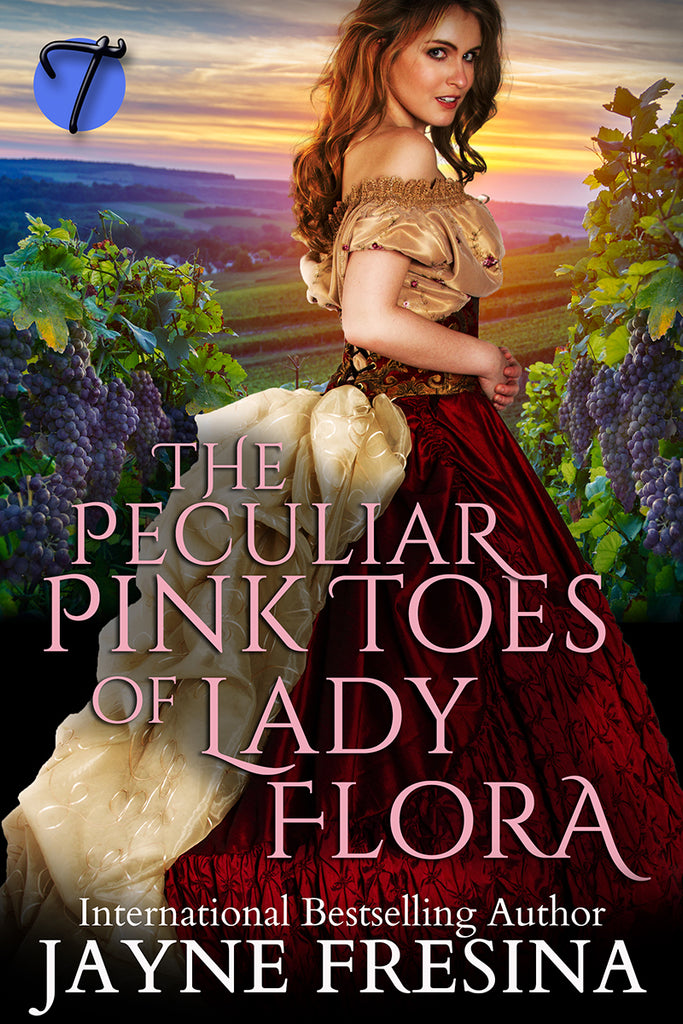 The Peculiar Pink Toes of Lady Flora by Jayne Fresina
English Edition
Selected Excerpts from the Misadventures, Remarkable Happenings, Riddles and Mysteries in the Lives Multitudinous of the Infamous Pirate, Sometimes Called Rosie Jackanapes (Unabridged).
As told by one, Ha'penny Plumm, Dogsbody.
**
When a playful and blindfolded Lady Flora Chelmsworth collides, literally, with the arrogant and staid Duke of Malgrave— subsequently manhandling his person and mistaking him for a butler—it is not an auspicious beginning. Assuming she hasn't made the best of impressions, therefore, Flora is shocked and alarmed when he soon proposes marriage. And with her troubles, she can only decline the offer. 
For one thing, she's not the woman he thinks she is. For another, she's not even sure that she knows who she is. Her past, as she remembers it, contains blood-thirsty pirates, Covent Garden concubines and a babe in a hatbox. And that's just the beginning. Or one of them. It wouldn't be fair to marry this very proper and painfully dignified gentleman, whose life is loaded with duties and responsibilities, his past free of mystery, scandal and misadventure.
Rejected by the impertinent chit, his pride wounded, Malgrave should forget this curious bump in his usually well-planned path. Unfortunately, getting ahead of himself—unaccustomed to refusal—he has prematurely commissioned her palm-sized portrait. Anonymously, of course, for discretion's sake. Now, hidden in some secret place, where only he shall ever see it, her replica will serve as both a reminder of that humiliating mistake and a caution against similar temptations. 
Little does he know that Lady Flora's miniature portrait will also one day bring her spinning back to his arms. From a far greater distance than he could ever imagine. Several hundred years, in fact.
---
---
More from this collection